Hallo,
ich bin neu und leider kann ich nicht Englisch. Ich hoffe trotzdem auf eure Hilfe.
Ich teste gerade Ant Download Manager v. 1.7.7 unter Windows 10 Pro 64 bit.
Folgendes Problem:
Das Fortschrittsfenster öffnet sich nur, wenn in den Optionen auch die Checkbox 'Dialog "Starte herunterladen" anzeigen' aktiviert ist.
Wird dieser Dialog übergangen, wird das Fenster nicht angezeigt!
Daher sehe ich nicht, ob der Download gestartet ist oder nicht.
Gibt es eine Möglichkeit, die Anzeige des Fortschrittsfensters trotzdem zu aktivieren?
Meine aktuellen Einstellungen: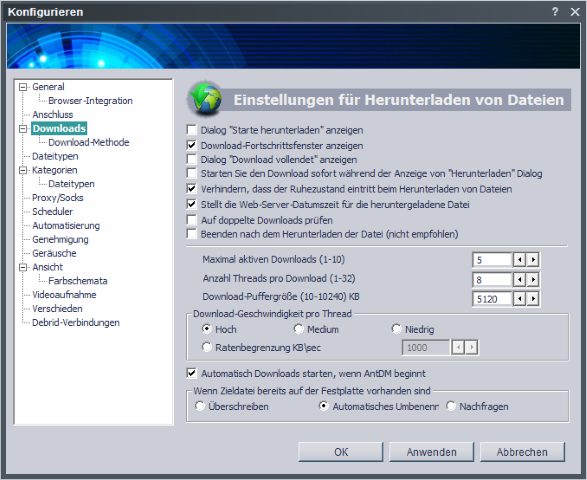 Gruß Rüdiger

rven5




Messages

: 1


Date d'inscription

: 2018-05-03



Hello
Sorry, I don't speak German. I'll answer in English (or in French if you prefer).
To help you write in English (or to get the German translation), use this software with reverse translation:
DOWNLOAD QTranslate
To be able to translate or have the German translation, in a bubble in all programs, click on the QTranslate icon in the notification area (next to the time Windows) ; the color of the icon is changed to green. After selecting the text, you will be able to have this possibility.
---> this option must be enabled.  The progress window is automatically displayed after, and only when only one download is added. Or a single download at a time is added.
or (even enabled in the settings) this option automatically turns off when you add multiple download links at the same time.
Also by clicking the "Start All Downloads" button
In the main window, when the download is in progress ... with right-click and context menu you can display this progress window.
See these help pages of the manual:
http://antdownloadmanager.com/_locales/en/uguide/module_5_7.htm?st=MA%3D%3D&sct=MA%3D%3D&mw=MjQw&ms=AAA%3D
http://antdownloadmanager.com/_locales/en/uguide/module_6_5.htm?st=MA%3D%3D&sct=MA%3D%3D&mw=MjQw&ms=AAA%3D
Support AntDM
---
Permissions in this forum:
You
cannot
reply to topics in this forum